VFW Names Top
National Patriot's Pen
Scholarship Winners

Every year, nearly 230,000 of our nation's youth compete in the VFW's Voice of Democracy and Patriot's Pen audio essay competitions for their chance to win a portion of more than
$3 million in college scholarships and awards.
On 1 April 2021, the Veterans of Foreign Wars (VFW) first-ever virtual Parade of Winners, the organization proudly presented more than $208,000 in scholarships and awards as it named the national winners of its 2021 Voice of Democracy and Patriot's Pen youth scholarship competitions.
1st Place Winner - Wyatt Perkins from the Department of North Dakota received a $5,000 scholarship award. Wyatt delivered his winning essayduring the Virtual Award Ceremony.
2nd Place Winner - Bennett Gordon from the Department of South Dakota received a $4,000 scholarship award.
3rd Place Winner - Sydnie Morgan from the Department of Oregon received a $3,500 scholarship award.
Madison Spriggs from Glenns Ferry represented the VFW Department of Idaho. She was awarded the $1,000 scholarship award. CONGRATULATIONS Madison!

DEPARTMENT OF IDAHO
PATRIOT'S PEN YOUTH SCHOLARSHIP PROGRAM
2020-2021 WINNERS ANNOUNCED
The youth scholarship programs the VFW and its Auxiliary sponsor each year are one of the many ways we help and serve. Through each of these important programs, we reach out, touch lives, and make a difference. These programs provide our youth an opportunity to hone their written and spoken communication skills, express their feelings about patriotism and love of country, and compete for some nice monetary prizes.
Students in Grades 6-8 participate in the Patriot's Pen Youth Essay Contest by writing a 300-400 word essay. The theme for this year's essay was: "What is Patriotism to Me?" Idaho's first place winner was awarded a check in the amount of $500, 2nd place received $300, and our 3rd place winner received $200.
Our 1st place winner's essay was submitted to our National Organization to compete with students from across the nation for national awards, totaling $50,000. The National 1st Place Winner will receive $5,000, with each 1stFirst Place State Winner receiving a minimum of $500 at the national level.
2020-2021
Department of Idaho
Patriot's Pen First Place Winner!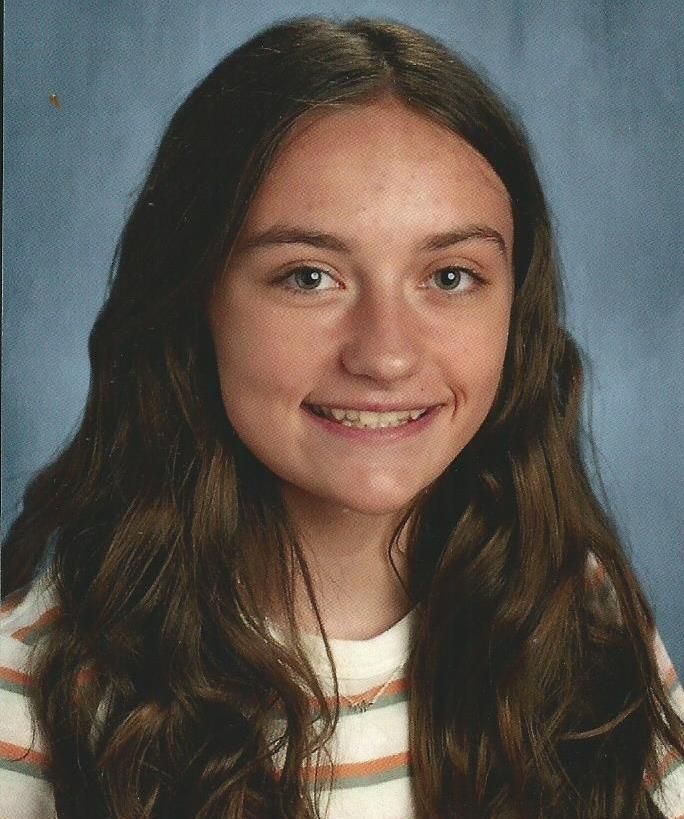 Madison Spriggs
Sponsored by District #6 - Post 3646 Glenns Ferry
Please click this link to read Madison's winning essay.

1st PLACE: MADISON SPRIGGS - Sponsored by Glenns Ferry Post 3646, District 6. Madison will receive a check for $500 and a Certificate. In addition, she will receive a minimum National Award of $500 as the first place winner for the State of Idaho.
2nd PLACE: CHLOE WHELAN - Sponsored by Capitol City Post 63, District 5. Chloe will receive a check for $300 and a certificate.
3rd PLACE: RACHEL SONNEN - Sponsored by Cottonwood Post 4902, District 2. Rachel will receive a check for $200 and a certificate.
HONORABLE MENTIONS: Each student will receive a certificate for their participation.
TARYN LOMMASSON
- Sponsored by Coeur d'Alene Post 889, District 1
CALEB WHITE
- Sponsored by Emmett Post 4900, District 4
ZOE ZUFELT
- Sponsored by Pocatello Post 735, District 7
MAYCEE CURTIS
- Sponsored by Harland Clendenin Post 7137, District 8