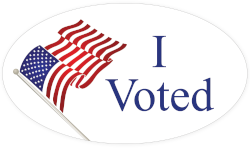 Thank you for exercising your right to vote
at our Primary Election!
Now for the General Election
As I write this, we are only a few months from the general election. Numbers matter in an election and we have the numbers to make a difference. As you may be aware, there are approximately 130,000 veterans residing in Idaho. In addition, it has been estimated that 94 % of veterans vote. Combine this with wives, family members and friends, and it results in a significant number of votes.
We are stronger together and our influence counts. However we must speak with one voice and our voices must be heard. While our various veterans' service organizations cannot officially endorse a political candidate, as individuals, we are urged to support those running for public office who support us and our legislative efforts.
We as veterans know what words like citizenship and patriotism mean and the obligations that come with them. We also understand that these obligations do not end when our service is complete. Consequently, there is no group of citizens that has a more vested interest and right to vote than our nation's veterans. Therefore, we must continue to play a role as patriotic citizens and get involved in the elections.
Veterans and our military quality of life must be a priority of our elected officials. The only way to ensure this is to vote for those candidates who believe in and support our issues. Therefore, it is important for us as citizens, veterans and voters to study the issues and be aware of the positions of those campaigning for public office, so we may cast an informed vote at election time.
Remember: "All Politics Are Local." We need to elect pro-veteran candidates who will support us in office. Then, we need to let our elected officials hear our demands "loud and clear" to preserve benefits and support our veterans, active-duty military and their families. If our elected officials don't hear from us, they will assume that we are satisfied with the way they vote and the outcome of the issues that affect our daily lives, and we will live with the consequences. We are the land of the free because we are the home of the brave!!!
Most importantly, don't forget to vote, and encourage everyone to do the same. In the meantime, stay safe and healthy.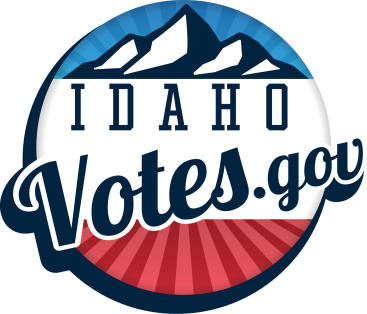 ELECTION DAY IS ON NOVEMBER 3, 2020
HOW TO REGISTER AND VOTE: https://idahovotes.gov/
https://idahovotes.gov/online-voter-tools/
https://elections.sos.idaho.gov/ElectionLink/ElectionLink/ApplicationInstructions.aspx
ABSENTEE VOTER INFORMATION:
https://idahovotes.gov/absentee-voter-information/
https://elections.sos.idaho.gov/ElectionLink/ElectionLink/BeginAbsenteeRequest.aspx
https://sos.idaho.gov/elect/VoterReg/voter_registration.pdf
https://elections.sos.idaho.gov/ElectionLink/ElectionLink/ViewPollingLocation.aspx
IMPORTANT DATES TO REMEMBER
Important Dates to Remember
Oct. 9 - Pre-registration deadline: Voter registrations must be received by the county clerk (Deadline is postmarked by this date for mailed paper applications; 5 p.m. for paper applications handed into the county clerk's office, or until midnight for online applications.)
Check your registration status and register to vote
It's worth noting that Idaho law allows you to register in person on the day of an election. If you miss the online or mail-in voter pre-registration deadline, you can still register to vote and cast a ballot on Election Day. Simply go to your regular polling place or early voting site to register and vote. You will need to bring with you a current and valid driver's license or identification card issued by the Idaho Department of Motor Vehicles.
Oct. 19 - Early in-person voting begins.
Oct. 23 - Absentee ballot application deadline: Applications must be received by the county clerk by 5 p.m.
Oct. 30 - Early voting ends at 5 p.m.
Nov. 3 - Absentee ballot return deadline: Absentee ballots must be received at your county clerk's office by 8 p.m.
Nov. 3 - Election Day: Polling places and the county clerks' offices open 8 a.m.– 8 p.m.
How to Register to Vote in Idaho
If you're not sure whether you are registered to vote in Idaho or to check if your voter registration is up-to-date, the Idaho Secretary of State's Office has an online tool to help you look up that information. On that page, you will also be able to update or submit a new registration, request an absentee ballot and look up your polling place.
As noted in the dates and deadlines section above, voter registrations must be received by your county clerk by October 9. If you miss that deadline, you can still register at the poll. Simply go to your regular polling place or early voting site to register and vote. You will need to show a valid driver's license or identification card issued by the Idaho Department of Motor Vehicles.
Voting by Absentee Ballot
You can request your absentee ballot on the Idaho Secretary of State's website. If you prefer to not request a ballot online you can print off this pdf and send it to your county clerk. An absentee ballot will then be mailed to you.
Once you have received your absentee ballot, you have until 8 p.m. on election day, Nov. 3, to get the ballot into the hands of county elections officials.
When you receive the ballot, it's important to fill it out, put it in the secrecy envelope, and then place it inside the ballot return envelope it came in. Once it's all in there, sign it and don't have someone else sign it with your name.
"We're validating the signatures on the back of those envelopes to make sure it is the person voting who is casting that ballot," Ada County Clerk Phil McGrane said. "Sometimes one of the issues we see is one spouse will sign the other spouse's ballot and because those signatures don't match we can't actually accept those ballots."
IF YOU PLAN TO VOTE BY MAIL, PLAN AHEAD!
Because of the sheer number of absentee ballots expected, you are discouraged from waiting until the last minute to send your ballot in. Officials say it's best to have the ballot in the mail at least a week before election day to ensure it gets there in time. If you're concerned that it is too late to mail your ballot, county clerks provide drop boxes outside there offices where you can hand-deliver it on election day.
In Ada County, drop boxes are being added to Kuna City Hall, Meridian City Hall, Eagle City Hall, and potentially Boise City Hall. There is also a drop box at the election's office.
Voting in Person
If you prefer to cast your vote in person, you can do so at your usual polling place. If you are unsure of where your polling place is, you can look up that information by clicking or tapping here.
It's worth noting that due to the pandemic, some usual polling places may have changed locations. Because of the unpredictable nature of the pandemic, these changes could happen at any time, including on election day. Please double-check your polling location before heading out the door to cast your vote.
BECOME A VETERANS' ADVOCATE
Our National VFW organization is working hard to protect those benefits and entitlements that we have earned through our military service to our nation. To make this program successful, we need as many of you as possible to participate and get involved as a "Veterans Advocate." The purpose of this program is to inform our members of the issues so we can take action by contacting (writing letters, sending emails, making phone calls, attending town hall meetings, etc.) our legislators on issues affecting veterans, active duty service members and our families. Our elected officials need to hear from us. If they don't, they will assume that it isn't important to us, make the decisions for us, and we will have to live with the consequences.
To become a "Veterans Advocate," join the VFW Action Corps by clicking on

http://capwiz.com/vfw/mlm/signup.htm

. By doing so, you will receive the Washington Weekly E-Newsletter and all VFW Action Alerts.
To report on Veterans activities in your area, such as legislative events, town halls, veteran's advisory committees, rallies, etc., send an email briefly describing the event or activity to Bob Jones, the Department of Idaho's Legislative Committee Member, at

arcticcirclerexb@aol.com

.
To seek answers to questions you may have on legislative issues, or obtain more information, write to Comrade Jones at the above email address, or phone him at Tel. 208-356-0255.
Thanks for all you have done and all you continue to do for Veterans and their families.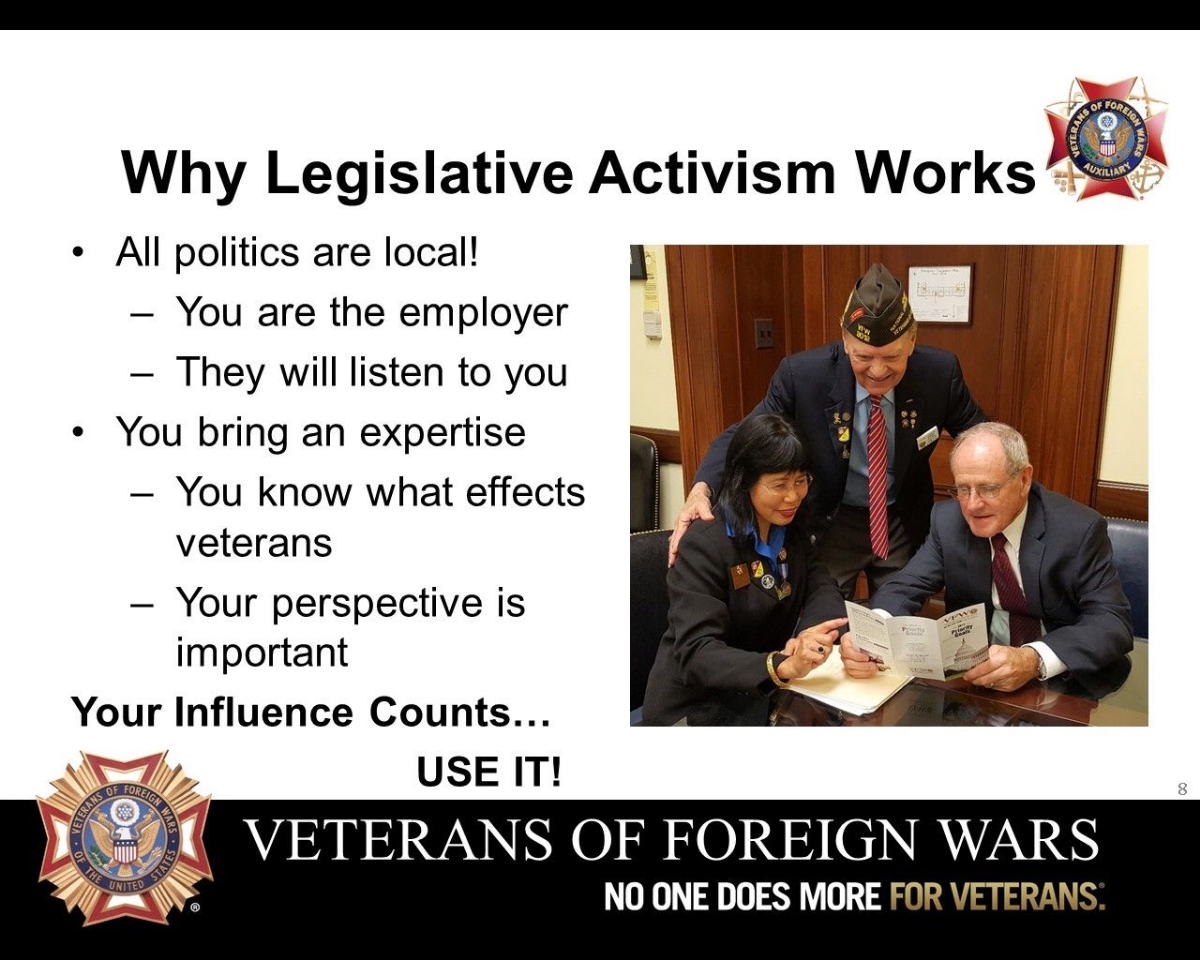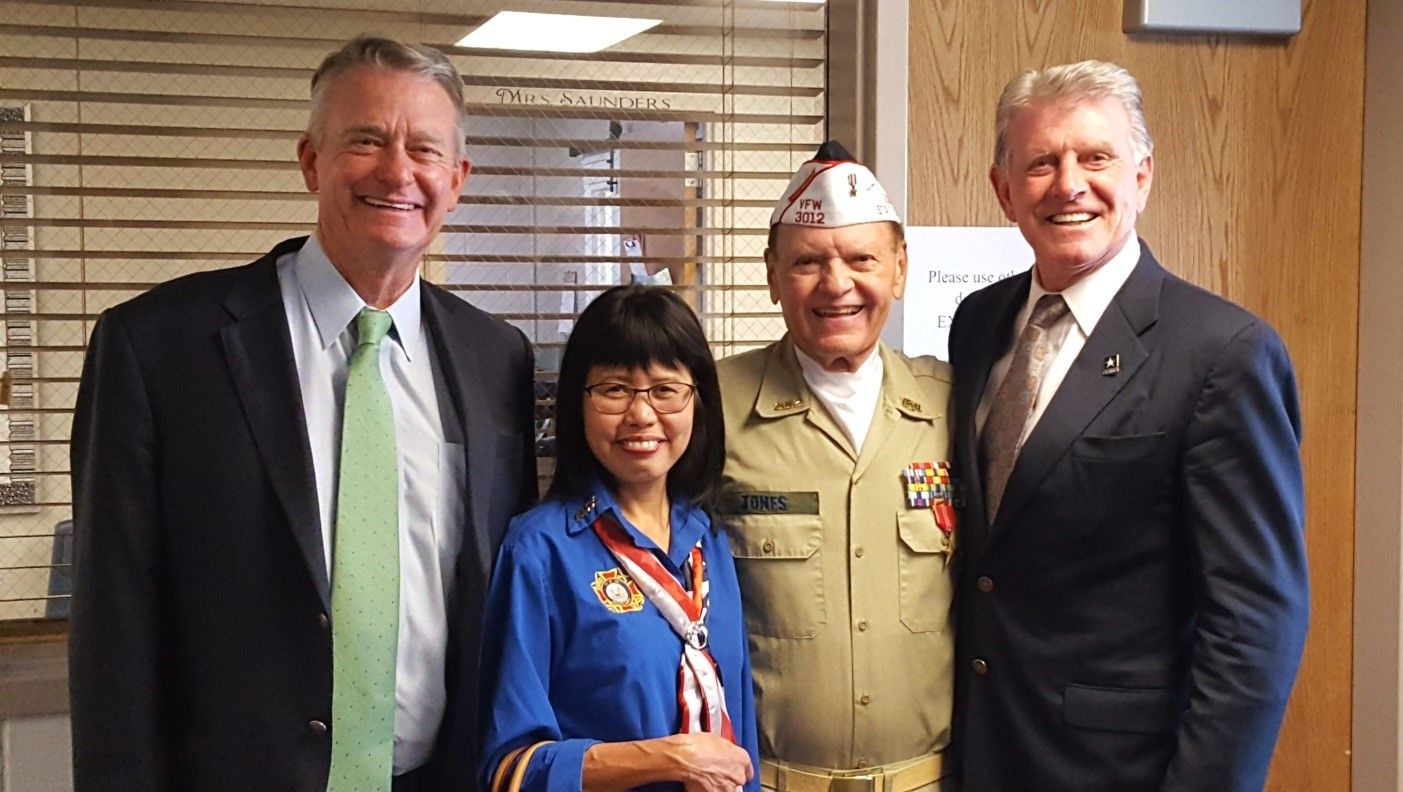 Idaho Governor Brad Little, Carmelita Jones, Bob Jones and Former Idaho Governor Butch Otter